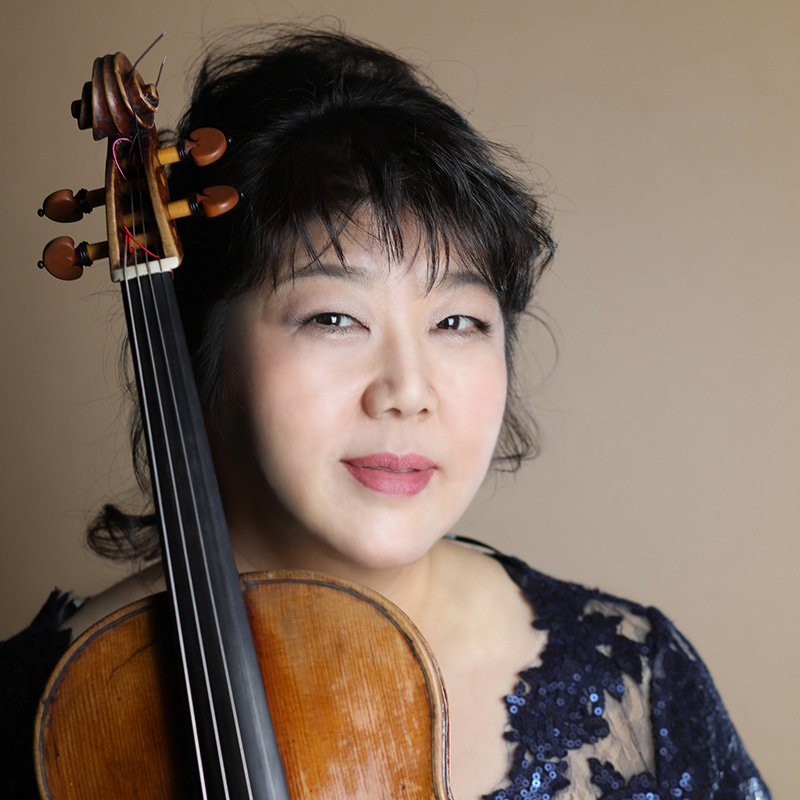 ©島崎 陽子
Yoshiko Kawamoto won the highest prize (second place with no first place winner) in the viola division of the Geneva International Music Competition in 1992. Kawamoto received the Muramatsu Award in 1996. In 1997 she won the 7th Nippon Steel Corporation Fresh Artists Award. In 2015 she received TonenGeneral Music Awards Encouragement Prize. After serving as first violist in the Tokyo Metropolitan Symphony Orchestra, Kawamoto has been one of the most active viola soloists and chamber musicians. She is a member of Kyoto Alti String Quartet and AOI Residence Quartet.
Kawamoto started studying the violin at the age of three in the Talent Education Research Institute. She studied at Toho Gakuen "Music Class for Children," Toho Gakuen Music High School, then Toho Gakuen School of Music. Kawamoto has studied the violin with Toshiya Eto and Aiko Suzuki and chamber music with Yasuo Sueyoshi and Koichiro Harada. She started performing in public while she was a student. In 1989, Kawamoto won First Prize at the 6th Tokyo International Competition Chamber Music Division as a member of Y Quartet. In 1989 and 1990, she was invited to the Tanglewoood Music Festival and won the Grace B. Jackson Award. In 1991, when she joined the Tokyo Metropolitan Symphony Orchestra, she converted to the viola. Kawamoto served as first violist from 1999 to 2002 when she left the Orchestra. She became the principal guest violist of the NHK Symphony Orchestra in 2017.
Kawamoto has participated in numerous music festivals, such as Marlboro in the US, Davos in Switzerland, Tokyo Summer Music Festival and Kirishima Music Festival in Japan. She has regularly joined Saito Kinen Orchestra, Seiji Ozawa Music Academy, Mito Chamber Orchestra, and Beppu Argerich Music Festival where she performed with Argerich, Yuri Bashmet, and other world-prominent soloists and her performance has been well received. Kawamoto has also enjoyed high acclaim for her performances on numerous stages such as Nippon Steel Corporation Concert in November 1995, a recital at the 59th Promising Artists Series, and Haseko Classic Special/Yoshiko Kawamoto, the violist that was held as a one-year recital series from July 1997 at Casals Hall. Kawamoto has performed with prestigious conductors including Gary Bertini, Jean Fournet, and Peter Maag. She participated in the Seven Stars Gala Concert advocated by Myung-Whun Chung, conductor and pianist, performing in Japan and Korea in 2000. She performed with Myung-Whun Chung again in July 2003, which was highly rated as being a "virtuoso performance that accompanied flexibly with other instruments providing strong support." (Miyuki Shiraishi, Asahi Shimbun Newspaper) Kawamoto's CDs include the "Viola Baroque Music" with Shinichiro Nakano (Meister Music MM-1028) and "J.S. Back: Sonaten fur Viola da Gamba und Cembalo" (Meister Music MM-1075). Kawamoto served as principal guest violist at NHK Symphony Orchestra from 2017 to March 2021. She has been enthusiastically engaged in the development of young musicians as string instrument advisor at Seiji Ozawa Music Academy and Aichi Chamber Orchestra. Kawamoto is a resident artist of Shiiki presents Argerich's Haus.