Message from Martha Argerich
Message from Martha Argerich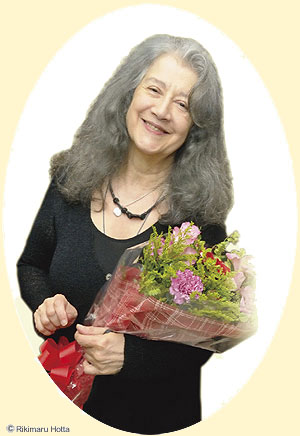 Ms. Martha Argerich, globally active as world-best artist, has loved Oita as if it were her hometown. Since the launch of the MUSIC FESTIVAL Argerich's Meeting Point in Beppu bearing her name for the first time in 1998, she has visited Oita with world-prominent musicians, spreading the name of Oita around the world as a place that connects people across borders and racial lines through music.
The activities supported by Ms. Argerich to pursue the role of the arts in society, including her support for disaster recovery from the Great East Japan Earthquake and Kumamoto Earthquake and the Pinocchio Concert project aiming to foster rich minds of children through music, have greatly contributed to fostering harmony and the spirit of tolerance that are the essence of the arts to create a peaceful society where all people can live alongside each other.

This year marks the 25th anniversary of Ms. Argerich becoming General Director of the Music Festival. Oita Prefecture would like to celebrate Ms. Argerich's 80th birthday together with the people in Oita and honor her for her achievements in Oita, in Japan, and around the world and communicate her thoughts on the role of the arts, the spirit of tolerance and inclusiveness globally through the Music Festival whose intention has been to send messages from this rural region to the world. With this objective, we designate June 5, her birth day, as Martha Argerich Day.